What is needed in a guestroom to create the true essence of comfort where guests can spend their stay in peace and solitude away from the hustle and bustle of life?
This begins with the essence of comfort, which can be found in a room that is comfortable with a functional layout that is not too spacious or showy.
This is what promises a luxurious getaway experience.
We invite you to join us and experience the true essence of comfort.

Each 540 square foot guestroom features the fragrance of tatami and a small Japanese garden outside its window where guests are treated to sights that vary with each season. Guests can also relax on the open veranda located in the garden to cool off after a soak in their guestroom's very own private hot spring bath. At night, guests can indulge in a restful nights'sleep on their guestroom's Simmons high-quality mattress used in luxury hotels around the world.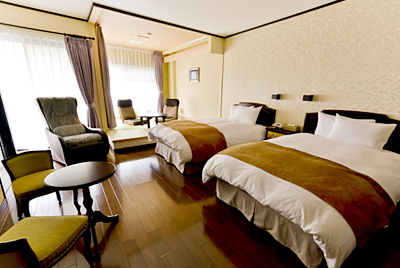 Guestrooms feature the following amenities.
Please contact Guest Reception if you are missing an amenity or forgot to bring a personal care item with you.
Shampoo (1)
Conditioner (1)
Body soap (1)
Face towels (4)
Bath towels (4)
Hair dryer (Nano Care by Panasonic) (1)
Pajamas
Bathrobe
Hair brush★
Comb★
Toothbrush★
Cotton swabs★
Cotton★
4-piece cosmetics set★
Shower cap★
In-room slippers (2 pair)★
Amenities with a ★ mark may be taken home by the guest.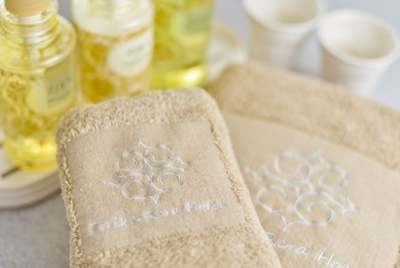 Each guestroom comes equipped with an iPad for accessing the hotel's digital signage system.
This system provides information on the hotel, weather forecasts and tourist attractions in the area.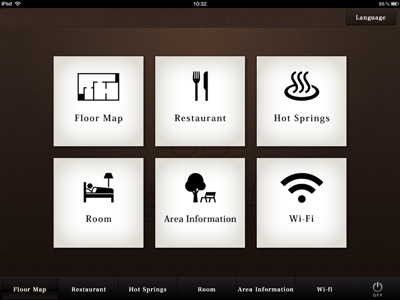 2 beds with Simmons mattresses
Closet
LCD TV
Panasonic massage chair (1)
Sharp plasma cluster ion generator (1)
Keurig coffee maker (1)
Refrigerator (1)